Jurassic World: Dominion Dominates Fandom Wikis - The Loop
Play Sound
Titanium
Used in liquid transportation structures, drills and factories.

---

Explosiveness:
0%
Flammability:
0%
Radioactivity:
0%
Charge:
0%
Naturally Occurring:
Yes
Build Cost:
100%
Hardness
3
Titanium is the third primary resource you collect in the game using Titanium Drill.
Location
[
]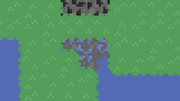 Titanium can be mined from Titanium ore tiles. Which maps they are on? Stained Mountains and Maze.
How to get titanium?
[
]
Titanium can be collected using a Titanium Drill, an Omnidrill, or can be made using a Titanium Extractor or from a Separator.
Extracting
[
]
Requires

6 Iron with a lot of Water to output

Titanium using Titanium Extractor.
Purchasing
[
]
Titanium is used to purchase the following items:

Pulse Conduit
Pulse Conduit
Advanced liquid transport block. Transports liquids faster and store more than standard Template loop detected: Template:Iis.

---

General
Health:
65
Size:
1x1
Build cost:
1 Steel
1 Titanium

Drillables:
Liquid capacity:
16.0
Template:Item data RTG Generator/Old

[[RTG Generator/Old|

Template:Item data RTG Generator/Old

]]

Template:Item data RTG Generator/Old

Nuclear Reactor
Nuclear Reactor
An advanced version of Template loop detected: Template:Ii, and the ultimate power generator. Generate power from Uranium. Requires constant water cooling. Highly volatile; will explode violently if insufficient amounts of coolant are supplied.

---

General
Health:
600
Size:
3x3
Build cost:
50

Iron


40 Titaniums
40 Diriums

Drillables:
Liquid capacity:
50
Power capacity :
80.0
Laser tile range:
6
Max power transfer/second:
30.00
HIGHLY EXPLOSIVE!
Power generation/second:
27.00
Input:
Uranium