This page has a comprehensive list of all the things we need to do to this Wiki. The goal is to update this Wiki as new features are added. As for now, here is the to-do list.
General to-do-list
[
]
Advanced users
[
]
If you know how to edit and how templates work, we encourage you to contribute to these.
Item data
[
]
v3.5 progress: 63%
v4.0 progress: 0%
Users who are not proficient in MediaWiki Markup and/or just want to contribute
[
]
If your native language or you are speaking fluent is English and you are fluent in it, please care to fix SNN95's mayhem on destructing destroying this beloved language. You can see all pages that needs need help on fixing the grammar and vocabulary at Special:AllPages, and maybe this page too.
Admin to-do-list
[
]
[

]
⚠️ Progress: 10%

⚠️ Using Template:Inventory as navigation, whenever a user click on any of the block, the selected tab stays even after page reloading.
⚠️ The ability to edit item data will be here soon.
ℹ️ Each link will follow the format [block]#[block category]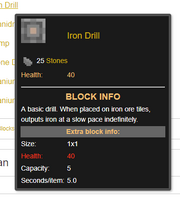 Tooltips
[
]
✔️ Progress: 100%

️️️️✔️ Need admin privilege to tweak some code to make this feature work.

⚠️ Progress: 0%

⚠️ View the item in tooltip horizontally rather than vertically.
Dynamic Page List (DPL)
[
]
✔️ Progress: 100%

✔️ Request Wikia Community to install DPL on this wiki.
✔️ Use tag <DPL></DPL> to auto list all pages within appropriate category. See the usage example at Steel#Purchasing.

✔️ Progress: 100%

✔️ Implement images into DPL.

✔️ Progress: 100%