Iron is the second resource available in the game. With a sufficient amount of Stone in the Inventory, you can purchase an Iron Drill that can be used to collect Iron.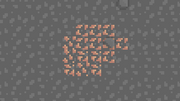 Iron is mine using Iron Drill on iron ore tile at any terrain in-game.
Again, Iron can be collected using an Iron Drill, and additionally an Omnidrill.
Furthermore, it can be used as ammunition for Gattling Turrets, Splitter Turrets
Iron is an ingredient for the Smelter and Lava Smelter to output Steel.
Image
Name
Description
Ingredients
Smelter
An essential crafting block.
1 Iron
1 Coal

Lava Smelter
Uses lava to convert iron into steel.
1 Iron
40 Lava liquid
Iron is used to purchase the following items:
Community content is available under
CC-BY-SA
unless otherwise noted.