Iron is the second resource available in the game. With a sufficient amount of Stone in the Inventory, you can purchase an Iron Drill that can be used to collect Iron.
Location
[
]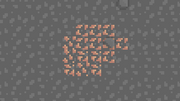 Iron is mine using Iron Drill on iron ore tile at any terrain in-game.
How to get iron?
[
]
Again, Iron can be collected using an Iron Drill, and additionally an Omnidrill.
Ammunition
[
]
Furthermore, it can be used as ammunition for Gattling Turrets, Splitter Turrets
Smelting
[
]
Iron is an ingredient for the Smelter and Lava Smelter to output Steel.
Image
Name
Description
Ingredients
Smelter
An essential crafting block.
1 Iron
1 Coal

Lava Smelter
Uses lava to convert iron into steel.
1 Iron
40 Lava liquid
Purchasing
[
]
Iron is used to purchase the following items:
Resources
Ore
Stone • Iron • Titanium • Uranium • Coal
Smelting
Steel • Dirium
Liquid
  

Water

•   Lava • 28px  

Oil